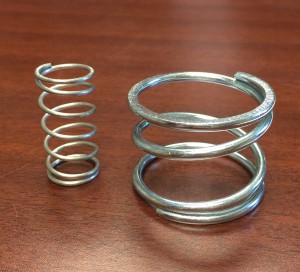 A compression spring is an open coil helical spring offering resistance when a load is applied against it. This load causes the coil to collapse at a specified rate of pounds per inch. Most compression springs are single diameter, special forms such as conical, concave (barrel), and convex (hourglass) are possible but may require additional set-up time. Round wire is the ideal choice and is available in various diameters and types. Round wire springs can be produced with standard tooling, thus reducing cost.
Download the Compression Spring Specification Sheets:
Compression Spring
Conical Compression Spring
There are four basic types of compression spring ends. They are as follows:
1) OPEN
2) OPEN and GROUND
3) CLOSED ONLY
4) CLOSED and GROUND.
The most common are CLOSED ONLY or CLOSED and GROUND.
Ground ends are specified when squareness of three degrees (standard) or better is needed. Grinding also provides an average seating surface of 270 degrees, additional surface area can be achieved if required.
Tolerances on compression springs vary with each design. Defining your needs will help us provide the optimum spring for your application.
Spring materials are available in many sizes and types. The top four being:
1) MUSIC WIRE
2) HARD DRAWN
3) OIL-TEMPERED
4) STAINLESS TYPE 302 for heat and corrosion resistance.