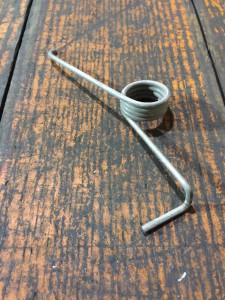 A torsion spring is usually a closed coil helical spring with ends formed to provide torque when load is exerted on the ends. Depending on the application torsion springs can be designed to work in a clockwise or counter-clockwise rotation. This working rotation will determine the direction of the wind. Torsion springs should always be wound tighter in use and not open up. A properly designed torsion spring will reduce in coil diameter when loading. This reduction has to be accounted for if a rod is used through the inside for support. Insufficient clearance between inside diameter of the spring and support rod will cause the coils to lock down and result in failure or bending of ends.
End configurations of torsion springs are limitless. The applications will determine how exotic the ends or tails need to be. The fewer bends the less tooling and machine time involved thus reducing your cost.
Tolerances of torsion springs vary with each design. Variances in wire and design result in tolerances in the following areas:
Download the Torsion Spring Specification Sheets:
Torsion Spring
Double Torsion Spring
BODY LENGTH
OUTSIDE DIAMETER
FREE ANGLE TOLERANCES (in degrees) TORQUE PER INCH POUNDS
END CONFIGURATIONS.
Spring materials are available in many sizes and types. The top four being:
1) MUSIC WIRE
2) HARD DRAWN
3) OIL-TEMPERED
4) STAINLESS TYPE 302 for heat and corrosion resistance.